Art and Culture | Folk Dance | Music | Fair and Fastivals
Art and Culture
---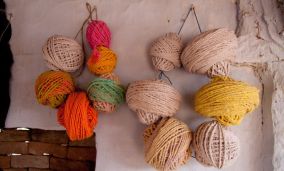 Lalgarh jattan is known for its people's, palaces, desert, and wild lives but in broad sense it is the people who make this village a lively and lovely place The vibrancy, love for life, the colorful costumes they wear, make the people of Lalgarh jattan quite different from the people of other parts of the District.Fairs and festivals are celebrated with joy and ecstasy. These festive seasons bring cheerfulness among the people and they share unforgettable moments with their friends and relatives with a sense of cordiality.Again the village is a cultural center of the state (Rajasthan).People of village are fond of dance and music. These are the cultural and traditional aspects of their society.
Folk Dance
---
The culture of This village is just incomplete without its exclusive folk dances. Every corner of village displays its own form of dance. It is an extraordinary experience to be a part of the desert dance, an exposition of calmness of the desert evening. One can view the art and culture of village in the rhythmic dance found in almost limitless variations in Whole district.
Music
---
In music lalgarh jattan is different in whole State (Rajasthan). in this village people sing punjabi song , Hindi song , Rajasthani song , English song, etc.Punjabi Music adds more symphony to the art & culture of this village. There is abundance and diversity in village music, which is rich, heroic, melancholic and joyful, and governs all aspects of people lives. The music of lalgarh jattan is compelling and intoxicating.
Fair and Fastivals
---
Fairs and Festivals forms a very important part of this village Culture.Lalgarh jattan Festivals are a symbol of the vivacious spirit of the people of the Beautiful village. So, they celebrate festivals for each and every reason, be it religious occasion or a change of season or ripening of a harvest. Festivals in This village are celebrated with great pomp and show. Right from Hindu festivals to Muslim festivals, all are celebrated with equal enthusiasm. Folk music and dance is a feature of almost every festival in lalgarh jattan. The romance, chivalry, etc of the royal bygone era comes back to life through these festivals. Some of the main festivals of This village are: Dipawali , Gangaur , Kajli Teej , Holi , Lohari , Ganesh Chaturthi , Dussehra , And Kite Festival's Also Big Faced in village.